George Clayton Johnson Bibliography Mla
One of the most fan-friendly pros ever, George Clayton Johnson passed away at 12:46 p.m PST on December 25 from cancer. He had been in hospice care in his final days and there were many premature reports of his death.
Born in Cheyenne, Wyoming, Johnson wrote that he loved reading the pulps "while surviving an Okie upbringing, a broken home, an alcoholic mother and institutional lockstep in a state orphanage with an occasional escape into a public library or a movie house."
He briefly served as a telegraph operator and draftsman in the Army. Using his benefits under the G.I Bill he enrolled in an Alabama college, then dropped out to travel, supporting himself as a draftsman.
On coffee breaks working as a draftsman detailing wind-tunnels for U.S. Steel, and later the boss of my own drafting service in Van Nuys designing ticky tacky for the San Fernando Valley, and later still while hanging out, a beatnik-wild bird, faced with foreclosure and crab-grass in my G.I. home in Pacoima, trying to be a writer, I drove myself and all who met me into a frenzy over the question, "What is a story?"
Those who taught him the answer included members of "The Group," also referred to as "The Southern California School of Writers," among them Charles Beaumont, William F. Nolan, John Tomerlin, Richard Matheson, OCee Ritch, and Chad Oliver.
He began to sell. Alfred Hitchcock Presents developed one of his submissions into the 1959 episode "I'll Take Care of You."
Then the script he wrote with Jack Golden Russell, bought "blind" as a vehicle for Frank Sinatra's "Rat Pack", became Ocean's Eleven (1960). However, it was heavily rewritten and earned them only a story credit.
That same year he connected with The Twilight Zone series, which bought his story "All Of Us Are Dying." Rod Serling turned it into the 1960 episode "The Four Of Us Are Dying."
Johnson would go on to write four episodes of The Twilight Zone, such as "Kick the Can", "Nothing in the Dark" featuring a very young Robert Redford, and "A Game of Pool" with Jonathan Winters and Jack Klugman. Two others were based on his stories, and one more was done from his story under a pseudonym.
Accepting an Emmy for Outstanding Writing Achievement in Drama for The Twilight Zone in 1961, Rod Serling thanked the "three writing gremlins who did the bulk of the work: Charles Beaumont, Richard Matheson, and George Clayton Johnson."
George created some monumental tv and film stories, though he didn't always enjoy paydays worthy of his efforts. The Wikipedia relates —
In 1960, George Clayton Johnson submitted a story to The Twilight Zone called "Sea Change" which was purchased by Rod Serling. The premise of the story was, "Off the coast of California, there's a man in a boat. Through an accident his hand is cut off. Miraculously, he re-grows a new hand. But what he doesn't realize is that out there in the kelp beds, the hand is re-growing a new man…"

Serling planned to produce "Sea Change" for the 1960 season, but General Mills, a sponsor for The Twilight Zone at the time, rejected it for being too violently graphic. Serling was then forced to call Johnson and ask him to buy the story back (for $500.00),
In 1962, Johnson convinced Ray Bradbury to let a short film be made from Ray's story "Icarus Montgolfier Wright." Johnson wrote the screenplay. Joseph Mugnaini created the images and Ross Martin (later of Wild Wild West) voiced the narration. Although it screened for only twelve days at a theater in Westwood, the film wound up being nominated for an Oscar.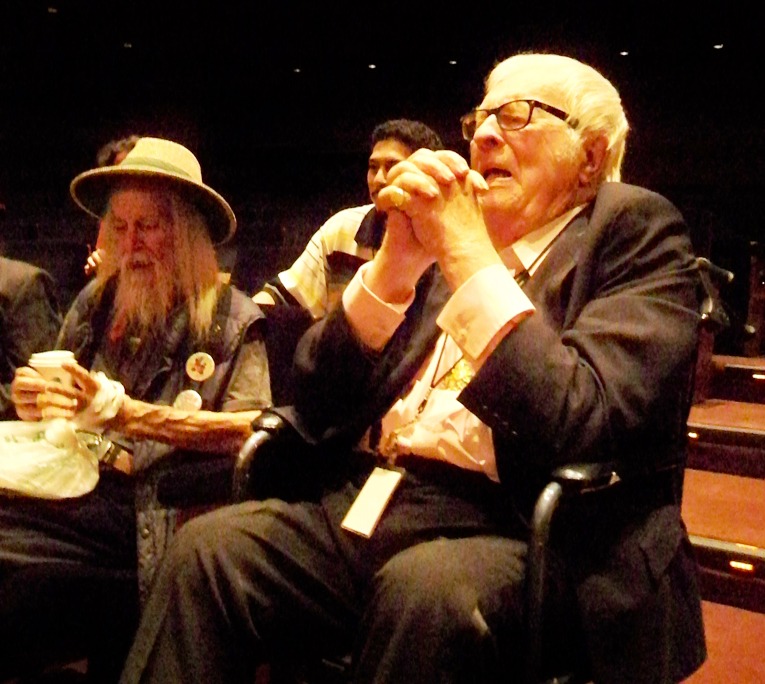 George Clayton Johnson and Ray Bradbury watch restored "Icarus Montgolfier Wright" at the Motion Picture Academy in 2008.
Johnson also wrote episodes of Honey West, Kentucky Jones, Kung Fu, The Law and Mr. Jones, Mr. Novak, and Route 66.
On the print side, he sold stories to Rogue editor Frank Robinson, and William F. Nolan at Gamma.
Johnson also had six credits as an actor. The first was as a Coast Guard officer in a 1961 episode of Sea Hunt. His last role was as Father Time, in a soon-to-be-released film by Gabe Bartalos titled Saint Bernard. Look for it in 2016.
Johnson and William F. Nolan appeared in The Intruder (1962), which they call the only Roger Corman movie to have lost money at the box office.
"I loved being an actor, and between Bill and me we set up a couple of very archetypal evil guys," Johnson remembered. "It all came about because the people we were hiring on the spot [in Missouri] to read for these parts…could not say lines."
Nolan and Johnson liked to tell how they made make funny faces when standing behind the lead actor, William Shatner, as he spoke his lines.
Johnson went from making fun of Shatner's lines to writing them, scripting the first aired episode of Star Trek, "The Man Trap" (1966), in which he also coined Dr. McCoy's iconic line, "He's dead, Jim."
His next big splash was co-writing with William F. Nolan the cult classic Logan's Run. As Nolan tells it, "George wanted to immediately create a screenplay, but I felt strongly that it should be a novel first. George acquiesced, and we rented a motel room to remove distractions and for three weeks we took turns at the typewriter. The rest is history."
They sold the novel to Dial Press, and the screen rights to MGM for $100,000. Although they despaired of the movie ever being made as the project passed through the hands of various producers and directors, it finally came out in 1976.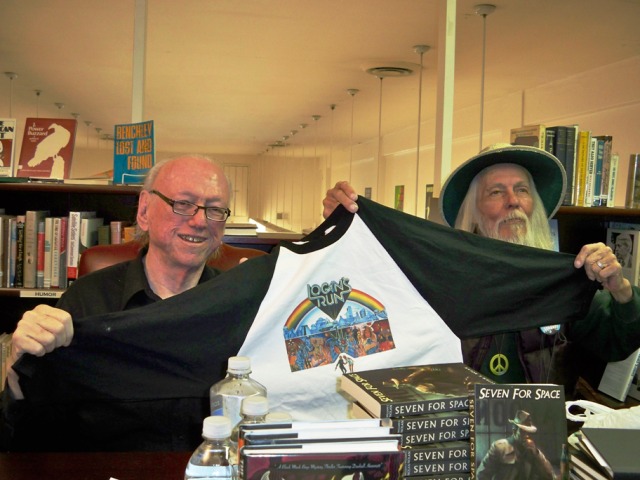 Logan's Run collaborators William F. Nolan and George Clayton Johnson in 2009.
The first time I met George Clayton Johnson was in the 1970s when I was student living at home Sylmar. I learned he lived in nearby Pacoima and went over to his house to drop off a copy of my crudely mimeographed fanzine. He and his wife, Lola, were very kind to me on that quick visit.
I also saw him speak at a LASFS meeting in 1972 when he was freshly returned from teaching at the Clarion SF Workshop. One of his statements I have never forgotten. He said everyone has one story in them – their own. And if they pay close attention when they write that first story, they may be able to write another, and another. Otherwise, they never become writers.
Johnson was known to everyone as a gracious, accessible and friendly individual, and continued to be celebrated down the years by all his colleagues and readers. John King Tarpinian helped organize Johnson's annual birthday celebration at Mystery & Imagination Bookshop in Glendale, where Johnson often did signings and gave talks, many of them reported here on File 770.
For George Clayton Johnson's 86th birthday, L.J. Dopp did a wonderful painting titled "The Fictioneer," with images from George's most famous TV and movie work. The only reward Dopp wanted was the thrill of seeing the expression on George's face when he saw it for the first time.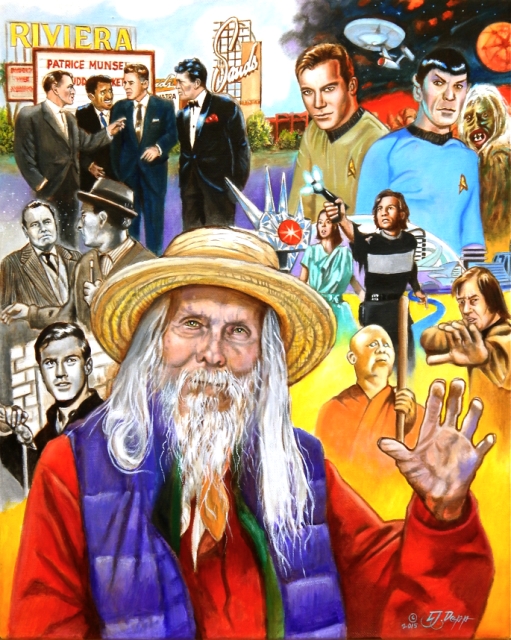 Johnson would say that he always wanted to "leave his footprints in the sand," and that he did.
He is survived by his wife, Lola Johnson, daughter Judy Olive, and son, Paul B. Johnson. Paul says in around 30 days he will announce a "lifetime celebration" party that will be held in his memory.
This entry was posted in In Passing and tagged George Clayton Johnson, John King Tarpinian, Logan's Run, Ray Bradbury, Roger Corman, Twilight Zone, William F. Nolan, William Shatner by Mike Glyer. Bookmark the permalink.
He was born in a barn, forced to repeat the sixth grade, dropped out of school during the eighth, watched his stories come to life on television and established what is probably the general rule of fantasy: "Fantasy must be about something, otherwise it's foolishness... ultimately it must be about human beings, it must be about the human condition." The man who defined THE TWILIGHT ZONE as "wisdom fiction" passed away on Christmas morning at the age of 86.
Robert Redford and George Clayton Johnson in 1960.
George Clayton Johnson was among the small handful of gifted -- and privileged -- to write teleplays for Rod Serling's classic television series, which aired over CBS from 1959 to 1964. Remember the episode about Jack Krugman and Jonathan Winters playing a game of pool... with a human life at the stakes? That was George Clayton Johnson. Remember the episode with Robert Redford as a young man harbored by an old lady, sheltered from fear of Mr. Death... only to turn out the young man was Death himself? That was George Clayton Johnson. Remember the episode about the old people who played a game of "Kick the Can" and became young again? The same story restaged for the 1983 motion picture? That was George Clayton Johnson.
The premiere episode of Star Trek: "Man Trap"
George got his start writing for THE TWILIGHT ZONE courtesy of Charles Beaumont, who taught the aspiring writer and how to script a teleplay. Beaumont did this on the sly, taking credit and pocketed some of the cash, but that did not bother George. Having THE TWILIGHT ZONE on his resume was one of the best things that could have happened to him. "He was a good friend and he inspired people to try harder," Johnson later recalled about Beaumont. In short time George was writing for HONEY WEST, KUNG FU, and what became the premiere episode of STAR TREK.
Ocean's Eleven (2001 version)
One of his stories was adapted into a motion-picture, OCEAN'S ELEVEN, starring Frank Sinatra, later remade as a hip and witty 2001 motion picture of the same name starring George Clooney. Johnson's characters would return for two additional sequels.
Johnson and William F. Nolan collaborated for a 1967 novel, LOGAN'S RUN, which would also be adapted into a short-lived weekly TV series of the same name. He even tried his hand at acting in a Roger Corman film, THE INTRUDER (1961), and on a fourth season episode of SEA HUNT, playing the role of Lt. Hartwell. (How's that for obscure trivia?) George was so nervous during filming that he accidentally referred to his commander as captain, and confessed not wanting to appear in front of the camera again... which he avoided for a number of years.
During filming of "A Penny for Your Thoughts," one of Johnson's earliest contributions to THE TWILIGHT ZONE, he was invited to the set to watch the filming. "I introduced myself to James Sheldon. He was the director," Johnson recalled. "We talked a while and then Rod Serling comes on the set. He's leading a choir of on-lookers like a tour guide for visiting dignitaries and everyone on the set was electrified. No one dared to make a move while he was there. Then he sees me and Lola standing there, and he introduces me to the people, 'And this is George Clayton Johnson, the writer of this absolutely dandy film we are making right now.' And I am hearing my name and the praise. Then Serling introduces the director... but he introduced me first. I felt like a king."
I had the privilege of meeting and chatting with George Clayton Johnson at a convention some years back. He was impressed with some of the knowledge I had about THE TWILIGHT ZONE, based on the questions I asked him, and he ultimately agreed to write a foreword for my award-winning book about THE TWILIGHT ZONE. It was here that you could see, almost sixty years after THE TWILIGHT ZONE went off the air, that his creative juices were still flowing. His foreword was a letter addressed to the late Rod Serling, expressing his appreciation and admiration for the longevity of the television program. "What an astonishing shelf-life for a piece of television entertainment and a great testament to the timeless nature of the program and the quality production you brought to the project," George wrote to Serling.
Johnson was the second-to-last of the major contributors for THE TWILIGHT ZONE and it is with sadness that I report his passing earlier today. Earl Hamner Jr. is still with us. George Clayton Johnson is now reunited with his friends and I have no doubt that like the early sixties, he and Matheson and Beaumont and Bradbury and Serling and the rest are relaxing by the swimming pool concocting magnificent fantasies to keep us entertained for another millennia.