Homework Accountability Form Template
How to Use
1. Create the Student Responsibility Form
Decide what behaviors you will want to address with your form. Some teachers use forms for missed homework assignments only. Other teachers choose to use them for certain types of off-task behavior. If you choose to use the Student Responsibility Form for more than one behavior, list the possibilities on the form. Check off the behavior before you hand the form to the student. Make a place for the student to explain why he or she demonstrated the behavior and a place for the student to sign the slip, indicating they acknowledge the infraction.
2. Set expectations
Once students have been taught procedures and expectations, they should be taught about the Student Responsibility Form procedure. Not following the set expectations means receiving a notification, just like students would receive when they have a job. It's important that students understand that the teacher will show forms to their parents and administration, if necessary.
3. Decide on consequences
Decide and explain how students will be penalized as they accumulate Student Responsibility Forms. For example, three forms for off-task behavior could result in parent contact. Receiving a form for not completing a homework assignment could mean that 5 points will be taken off the weekly participation grade.
4. Distribute the form
Any time a student fails to meet a classroom expectation, hand him or her a Student Responsibility Form. Allow the student time to complete the form, explaining why he or she chose not to follow the classroom expectation.
5. File the form
Collect and place the form in the student's file or in a filing system of your choice.
When to Use
Use Student Responsibility Forms to encourage accountability for behaviors you are trying to reduce in your classroom:
• Missing homework assignment
• Not having necessary supplies
• Not participating in class
• Distracting other students
Variations
Pink Slips - or Other Color Slips
Some teachers use colored paper for the Student Responsibility Forms and call the forms by that color. Pink is a popular color, so teachers can say they are issuing Pink Slips for behavior that is keeping students from the business of learning.
Parent Signature
You might decide to give further weight to the forms by having students take them home to be signed by a parent or guardian.
Class-wide Motivation System with Student Responsibility Forms
Depending on why you are issuing forms, you might want to have a competition between classes: the class with the fewest amount of issued forms each six weeks earns a reward. Or you could have a weekly class reward: if no Student Responsibility Forms are issued during the week, the class receives a reward.
Print This Tool
Today I thought I'd share my new homework policy for next year which I'm pretty excited about!
My homework assignments are worth 2 points each and I grade them only for completion.  While students work on their do now problems on Socrative I walk around and record grades for each student.  In the past I've given out 2's, 1's, and 0's.  Next year I decided to get rid of 1's, so students will get a 2 if they attempted every problem AND showed their work.  If they didn't do the homework, only did half of it, or didn't show their work they get a 0.  After students finish their do nows we go over homework answers as a class and then I answer any questions about the homework.  Most of the time I don't spend more than 10 minutes on this entire process, including the do nows, so that I have 30 minutes for my new lesson.  (You can read about & download my homework grade recording sheet here).
In the past I haven't accepted late homework because we go over the answers in class so it seemed too easy for a student to 'borrow' a classmate's assignment for their late work.  Next year I decided that I will accept late homework, but it will be a separate (but similar) assignment to the original homework assignment.
So…here's the part I'm excited about.  I created a 'Homework Accountability" Google form to hold students more accountable for their work.  While I'm walking around checking for completion, students who get a 0 need to fill out the form, which I will keep a link to in my Google Classroom for easy access.  The form is pretty simple: they will fill out their name, their reason for getting a 0, and either check off that they want to complete a make-up assignment or that they are accepting the 0.  Since all students are on their chromebooks at that time working on their do nows it will not be disruptive to have them fill out the form, nor will it be embarrassing for the student.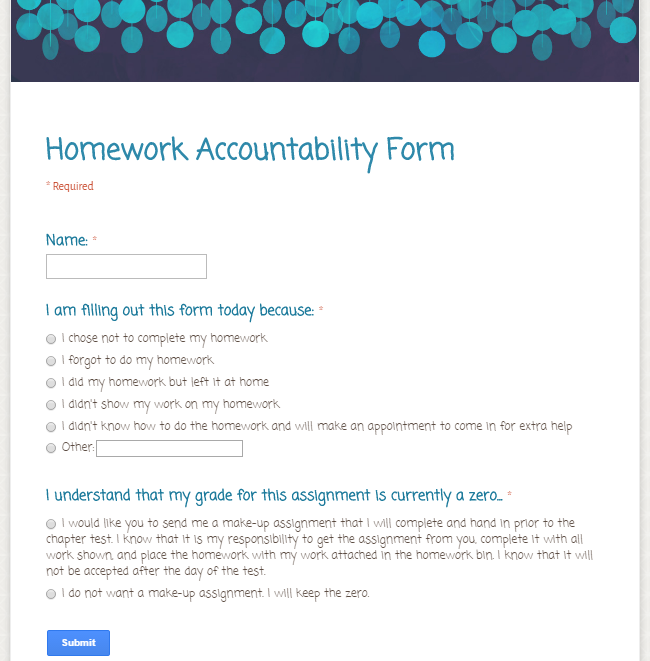 Here's the link if you want to make a copy of my form and edit it for your own classroom.
At the end of the day I will check responses to the form and email/share make-up assignments with the students who requested them.  All make-up work must be handed in by the unit test day.  I will not accept make-up work after that point since the idea is that completing the homework should help prepare students for the test.
I will give students full credit on the first 2 make-up assignments they complete in a marking period, but they can only earn 1/2 on any additional make-up work they complete, to hopefully discourage students from taking advantage of the system.  While it will require a little bit more work for me to come up with make-up assignments it isn't a huge deal.  When I write my lesson plans each week I will simply come up with a 2nd homework assignment each night so that I'm prepared.
I am excited to try this out because it gives students a chance to explain their reason for missing an assignment (without wasting class time on excuses), gives them a chance to make up for it, and gives them responsibility as they will not have the opportunity to make up an assignment unless they fill out the form and ask for one.  I also have documentation from the student that can be shared with parents, should a pattern form that needs to be addressed.  (I still plan to record student grades each day on my own record sheets, as well, so I am not relying solely on students filling out the form, but they won't be able to make it up unless they fill out the form).
(If you missed my post on a free homework poster you can download, listing the requirements for an acceptable homework assignment, you can find it here.)
What are your thoughts on this homework policy?
Thanks for reading,
Christina